WHY YOU NEED TO OWN A VACUUM AND HOW IT WILL MAKE YOUR LIFE BETTER
Which One to Buy?
As a mother of 3 (soon to be 4), a pet owner of 3 cats and 2 dogs, and a wife to a perpetually crumb-ridden husband, I have had my share of vacuuming experience. The satisfaction I feel when I have finished vacuuming is comparable to that of consuming a good piece of dark chocolate followed by a cold glass of milk. Blissful. Fleas, dirt, dust, and pet hair. All things that I dream would go away. But alas, a dream is a wish your heart makes when you're fast asleep (and not vacuuming). If I were not to vacuum these things up and out of my floors, then my home would be a lot less comfortable and healthy for those in it.
If you have floors (especially carpet), then you need a vacuum, no question!  Earlier in our marriage (and in our poorest state), we did try to question our real need for a vacuum and simply bought the cheapest handheld vacuum cleaner we could find. This lasted less than 2 weeks before we realized that a small, short corded hand vacuum, was simply not enough for our home full of carpets, a toddler, and 2 pets. I cannot feel like my home is clean when things are literally living in my carpets. I even use my handheld vacuum on my laminate, tile, and hardwood floors. Allow me to illustrate the difference between owning a vacuum and not owning a vacuum, and how much better it can make in your life:
Meet Jane. Jane has a vacuum. Meet Liza. Liza does not have a vacuum. Jane walks on her floors with no socks. Liza wears 2 pairs of socks and puts plastic wrap around her tall christmas slippers when she walks on her floors. Jane drops a freshly baked slice of butter bread on her hardwood floor and applies the 5-second rule. Liza drops a freshly baked slice of butter bread on her hardwood floors and applies the 5-second rule and Liza spends her night in the bathroom clutching a bottle of Pepto. Jane's son drops his cup of dry oats on their carpet, and Jane vacuums up every crumb just in time for the in-law's arrival. Liza's son drops his cup of dry oats on their carpet, and Liza is busy picking up the larger pieces by hand and hoping the smaller bits blend into the carpet, just as her in-laws arrive. Jane's dog can be seen playing with the children in the family room. Unfortunately, he sheds frequently while doing so, and a good "Post play" vacuum is always necessary. Liza's dog cannot be seen for it is too hard to tell the difference between his coat on his body, and his coat sheadings that mask the top layer of the floors.
To summarize:
Jane has a vacuum. Liza does not.
Jane is happy, Liza is not.
Simple!
Now, I'm not saying that owning a vacuum is the cure to your son's oat spilling, finding your dog, your sock/slipper situation, or your in-laws coming over. But even if those issues were to become irrelevant, there will always be a reason to own a vacuum. If you find the task of narrowing down your choices too daunting to attempt, then look no further, I am here to help! I've taken a few of the most important tidbits of information from these 3 diverse vacuums, in order to help you on your journey to vacuum ownership. The 1 thing that all 3 of these models have is that they are best sellers on Amazon! Why waste your time with anything other than leading? You've got dust mites to exterminate.

With the Dirt Devil SD20000RED Simpli-Stik Lightweight Bagless Stick Vacuum – Corded
, the price is no longer an excuse averaging out at less than $18! Dirt Devil has been creating and selling quality vacuums for over 60 years and is a constant leader in the industry. This particular vacuum has a 16-inch cord, requires no set-up, and comes in 3 different colors (red, dark blue, and teal), so you can personalize it to your liking.
Here are the highlights:
Lightweight (only 4lbs)

Converts to a hand vacuum

Extremely affordable

Multi-surface uses

Bagless
Keep in mind: While this vacuum is ideal for smaller spaces, and less traffic ridden jobs, if you have 9 children and an indoor petting zoo, this might not be the best choice as your main vacuum.

Averaging at less than $80 BISSELL 9595A Vacuum with OnePass – Corded
is a great buy. It feature's a 25ft cord, large dirt cup capacity, multi-surface use, and comes with a wide variety of attachments. It is very easy to assemble and requires little upkeep.
Here are its highlights:
Washable filter

Cyclonic system

Turbo brushes and tool use

Lightweight (only 7lbs)

Bagless
Keep in mind: Though this vacuum is powerful and diverse, it does not have automatic floor adjustments or a retractable cord. However, this is expected considering the affordable price.
The Oreck Commercial XL2100RHS 8 Pound Commercial Upright Vacuum, Blue
is a commercial upright vacuum and it will get the job done. For the quality of this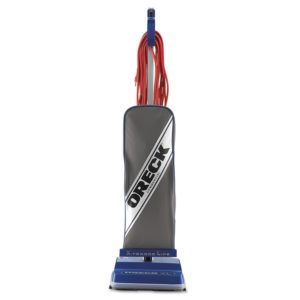 product, the price of less than $170 is outstanding! (I've paid more for less, I'm sorry to say). This is a heavy duty vacuum is built to last. It features a permeant belt, 12-inch cleaning path, and a fingertip power switch (a feature backed by the Arthritis Foundation).
Here are its highlights:
High-speed 6,500 RPM bristle movement

Automatic floor adjustments

35 Foot cord length

Lightweight (only 8lbs)

Convenient on/off switch location
Keep in mind: Though this vacuum is heavy duty, it does require bag changes. Not a deal-breaker, but slightly more inconvenient than bagless and more likely to trap items you wish to fish out.
Those are 3 great options for your next vacuum purchase, and any one of them would prove to be a wise purchase. The best way to make your decision is to determine your personal vacuum wants and needs. Do you have pets? How much space do you have? How much carpet is there to vacuum? What's your budget look like? Once you have answered these questions, you should have your purchase answer!
Remember, Be a Jane! Not a Liza (Sorry Liza), and good luck on your vacuum search!
— Shelby Ballew
Please follow and like us: