TOP 10 MUST HAVE KITCHEN CLEANING TOOLS
Did you know the average kitchen is actually dirtier than the average American bathroom? Once you think about it, it actually makes sense. You frequent this area to not only cook but to carry out many daily activities. The kitchen Is the heart of the home, after all, and It is (generally speaking) a high traffic area of the house. So what tools and equipment do you need to keep your kitchen healthy, safe, and clean for everybody in it? Below is a list of the top 10 kitchen cleaning tools you need in order to gain control over your kitchen and your house cleaning efforts:
1.)    Floor Mop with Disposable Cloths
You absolutely have to own a floor mop for the sake of keeping your floors clean. Depending on the type of flooring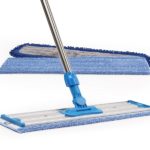 you have (hardwood,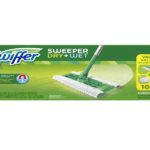 laminate, or ceramic tile) you won't necessarily want to place a damp mop head on your kitchen flooring. Using a mop with disposable cloths, enables you to choose between wet or dry, and will give you the added convince of disposable replacements. These are ideal for dust, pet hair, and minor wet spills. They are very affordable, with the Amazon price for a Swiffer Starter Kit beginning at only $12.
2.)    Hand Vacuum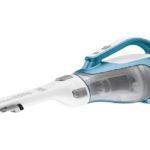 I'm sure you are already aware of the importance of owning an upright vacuum. but in order to pick up dirt, dry spills, and various debris from harder to reach areas (or areas you keep more sanitary, like a kitchen counter) you should do yourself a favor and purchase a hand vacuum. While corded vacuums tend to be more powerful, a rechargeable one is more convenient. Hand vacuums retail from $20 into the $100's. Tip: My personal hand vacuum was just under $50 and is still going strong after 1 year of consistent use.
A scrub brush set is different than just owning a simple package of sponges. A scrub set should provide you with a variety of tools to clean a variety of dishes. Brushes specifically designed to clean a cup, small opening, or large surface (such as a wok, or a large pan), will give you the best detailed dish cleaning. Many of these brushes also come in handy for properly cleaning a sink, around the drain, or even the surroundings of a water filtration system. Made to scrub away grease, film, and even mold spots, the average set of 3 brushes retails at about $10, making it a great and smart purchase. These brushes are must have kitchen cleaning tools
4.)    Miniature Broom and Dust Pan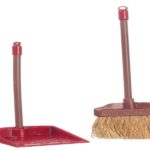 I cannot even begin to express the life saver that this $5 investment was for me. Little crumbs around the trash can, dirt from the dog's paws, or bits of food that didn't make it to the pot. All things that are now a much less dramatic ordeal in my routine of floor cleaning with my handy mini broom and dustpan. I spent about $5 on my set but they range in price from $1-20, depending on the brand and quality of the set.
5.)    Microfiber Cleaning Cloths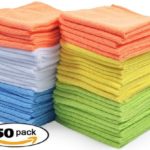 While my husbands old tee-shirts do make decent spill rags, they are not ideal for intense oven cleaning. If you are looking to do serious, continual, routine kitchen cleaning, you will need some serious kitchen rags. Despite my use of the word "Serious," the average set of quality kitchen rags is only about $12 for 24 microfiber rags. These rags pick up just about everything! They wipe off all the dust, take well to a variety of cleaning solutions, and they wash and dry well themselves. I highly recommend buying a set or two to have around the house as they are highly absorbent and contribute to a variety of cleaning situations.
6.)    Rubber Gloves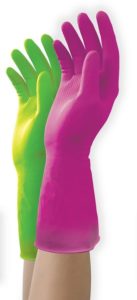 You may be picturing the disposable and thin gloves you would see at your doctor's office. And though this disposable option can be handy in other
areas of the house, in the kitchen, you need to protect your skin from many potential dangerous elements. You deal with grease, food stained surfaces, and intense chemicals while cleaning your kitchen, so you need to wear a good pair of rubber gloves. A two-pack retails at about $10 and as a bonus, you can even find them in cute colors. Hey, if you're cleaning grease you might as well clean wearing a color you like.
Of course, you need to own some sponges and the previously discussed kitchen brushes, but having an electric scrubbing tool is so helpful for deep cleaning ovens, stove tops, grease stains, and backsplashes. I have a gas range and it is constantly in need of a good clean. The electric scrub brush helps loosen up all of the burnt food, spill stains, and boil-over residue left behind from making a delicious dinner. My hands are not even strong enough to handle the mess without the electric tool. I absolutely suggest it as it is a very helpful kitchen tool, and is a wise investment of only $25-$50.
8.)    Push Broom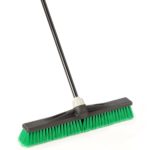 Of the kitchen cleaning tools, this is very much essential. I know many people think these are only for janitors, offices, or commercial grade surfaces, but it's simply not true. There are many multi-surface push brooms that are acceptable and intended for use in the average home kitchen. The act of pushing is easier than pulling and it tends to be easier to collect large piles with a push broom than a standard home broom. These retail for about $25 and are an especially great investment for those with large families or large kitchens.
9.)    Steam Mop

Again, depending on your floor surface, getting it damp may not be an option. However, for those of us dealing with tile a steam mop is a God send! The great thing about a steam mop, is there are usually 2 tanks. One is for water, and one is for the solution. By using a steam mop for your floor cleaning, you are getting a good and balanced cleaning of your floors. Dried mud, footprints, play-doh (speaking from experience), comes up so much quicker, easier, and cleaner with a steam mop. You don't need to buy the most expensive brand as you can find to get a quality machine at a reasonable price. I spent less than $100 on mine and it is still going strong after 3 years.
10.)    Extendable Duster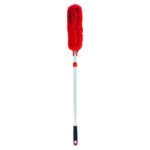 Many of us have fans in our kitchens, and all of us have ceilings. Grease can stick to your ceilings, making dust more likely to hang around up there. Knock it down before it gets too cozy, and avoid neck injury in the process with a simple extendable duster.  I recently saw a 4 pack of dusters on Amazon for under $20! That's only $5 per duster. Very worth it for the convenience of use, and need of this kitchen cleaning tool to keep ceilings, high cabinets, and ceiling fans completely dust free.
Overall, what you use to clean your home is up to you, and the way you maintain the cleaning of your kitchen surfaces is also up to you. All of the above kitchen cleaning tools are affordable, effective and easy to use, and what many consider necessary. Make life easier on yourself, and start investing in your collection of kitchen cleaning tools. There may not be a burn stain today, or grease on the window, but there eventually will be. When that time comes, you'll thank yourself for stocking your kitchen cleaning tools well. Happy home cleaning!
Please follow and like us: