THE HOME ROOMS SERIES: ROOM 1, THE LIVING ROOM
The purpose of a living room is just as it sounds. Living
This begins a series in which we will discuss the importance of each room in the home, it's purpose, and tips on how to keep these spaces functional, organized, and clean.
Although some would argue that the heart of your home is in your kitchen, in all actuality most of the "Living" is done in your main living space.
Often the "Living room", this space has the potential to bring joy, love, and long lasting memories to a home. All of this, of course, depends on how it is kept.
The purpose of a living room is just as it sounds. Living. The main living space needs to be functional, welcoming, comfortable, and organized, in order to live up to it's every possibility. It does not require perfection at all times, but it does require some semblance of order.
For example:
It's Tuesday night in the Peterson house and they are ready for their weekly game night. Mrs. Peterson digs around the closet for almost 15 minutes looking for "Sorry" before Mr. Peterson realizes and informs her that he actually placed it in the entertainment center after they last played. Because they did not have a designated space for such items, they have now lost out on 15 minutes of valuable family time and have also begun the evening's festivities with mild annoyance and frustration at the time lost due to disorganization.
Once "Sorry" has been located, Mr. and Mrs. Peterson gather their 2 children for the game. Upon sitting down around the coffee table, the Petersons see a large stack of mail, countless backdated magazines, and coupon clippings taking up their desired board game space. Now time must be dedicated to moving all of these items to a temporary location so that the game can now begin and sorting of the various items can take place at another time.
Now that there is a space to play, there is difficulty finding every family member a comfortable seating arrangement. There is an uneven amount of pillows and only enough room between the sofas and the coffee table for 3/4 family members.
You see where I'm going with this.
An unorganized space is chaos and can turn an otherwise pleasant and smooth evening into a catastrophe-filled with frustrations and headaches. How do you prevent this, you ask? Well, below I have listed a few of the top easiest things you can do to make your living room a more enjoyable space to be. After all, you likely spend a large deal of your home-life in this particular space, so it's important it be to your liking.
1.)    Provide quality storage
 Often times the living room is home to countless movies, books, and CDS and/or albums. Instead of allowing these things to be scattered about aimlessly, purchase a simple media center, or shelving piece to decoratively and functionally house these items. It is also a good idea to make creative use with the furniture you select, such choosing a storage ottoman for extra pillows and throws, or a sofa with side storage capacity for sorting mail or storing your current magazines.
2.)    Create a functional layout of furniture
It is very important that the layout of your furniture fits the layout of the room. Meaning that you not select furniture which is too big or too small for the space in which you are decorating, and also being conscious of the space you have to work with being careful not to over or under fill the space. Measure before you go into the furniture store and make sure the furniture you have has a purpose. Allowing plenty of places for lounging, storing, or displaying.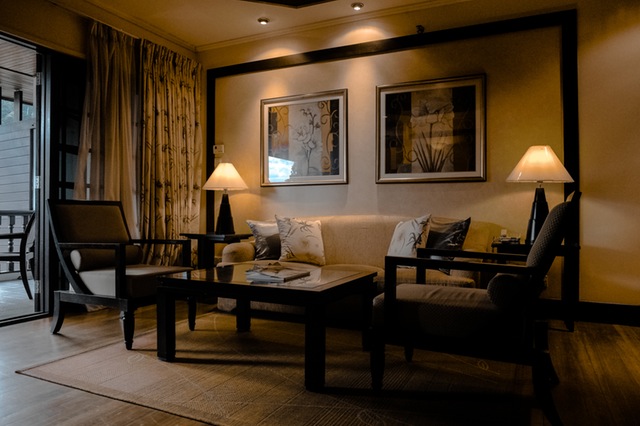 3.)    Customize to your tastes

 Again, this is your living space! It should be a place you enjoy being. Choose colors that compliment each there and make you happy. By choosing a color scheme it also takes the guess work out of choosing appropriate décor and helps the flow and overall look of the room by being consistent in its theme.  Most designers recommend sticking to a pallet of 3 (no more than 5) colors for your rooms theme. This helps create a feeling of warmth and consistency throughout the room.
4.)    Personalize
Make the room more of your own by adding family photos, DIY designs, or family pieces to the place. It's special and welcoming to see these things as a guest by giving you a glimpse of the person you are visiting on a more intimate level and it also provides comfort and familiarity to the space for you, close friends, and family members. Surround yourself with items you love, and you will feel more loved.
5.)    Create and adhere to a cleaning schedule
A living room can get dusty, dirty, and well … lived in! Having a simple schedule for when you tend to the cleaning of a room can help relieve the stress of mess and take the question of "When?" out of the cleaning process. It also assists in the avoidance of cluttered and unorganized spaces. Doing just 5 minutes of cleaning in one room, 5 days a week, can be the difference between a weekend enjoyed in your living room, or a weekend spent cleaning your living room.
As you can see, it is not too time consuming, effort draining, or financially straining to work with what you already have in order to redesign or clean up a living space. Even if the room in your home in which you and your loved ones spend most of your time is not the living room, it is important that this space is kept functional and clean for the times it is used. Keeping all rooms of your home as organized and clean as possible is also important for healthy living. The more functional and inviting your environment is, the more functional and inviting you will be. I do hope that these tips find you well and I wish you luck on your living room transformation journey!
— Shelby Ballew
Please follow and like us: