BEST 5 CHEAP VACUUM CLEANERS
A clean home environment is worth it
When you're on a tight budget, investing in cheap vacuum cleaners might seem daunting. Some vacuum cleaner prices induce immediate sticker shock. Other vacuum cleaners have so many bells and whistles they could pilot a plane. At first glance, it might seem tempting to buy a tiny hand-held or a used vacuum cleaner at a yard sale. Or maybe sweep the carpet with a broom (I've done this!).
But you want a clean carpet, and why shouldn't you have one? Your carpet is worth more than the price of a vacuum cleaner. So is your health. A clean home environment is worth it. You also want a vacuum cleaner that will last. Otherwise, you'll be making this decision again, sooner than you want. But there's that budget again. Is there hope for a clean carpet and durable vacuum cleaner at an affordable price?
Yes. The good news is you can find cheap vacuum cleaners that does a great job. You just have to know where and how to look. With expensive or shall i say not so cheap vacuum cleaners, you often pay for features you may not need. So it's important to know which features you do need.
What kinds of features are essential to you?
Effective suction power.
Light weight.
Easy to maneuver.
Adjustment for carpet height.
Extension wand.
Attachments for different surfaces.
Bag or bagless.
Upright or canister.
Quality of filter.
What are your preferences? What are the features you can't do without? Go in with a list. Know exactly what you need in a vacuum cleaner. Look for a basic model that meets your list.
Here are five cheap vacuum cleaners that will get the job done without the extra costs:
This little powerhouse weighs only 16.5 lbs. and is easy to maneuver. It's an upright that gets into tight spaces and adjusts for five levels of carpet and floor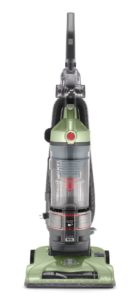 surface. An eight-foot hose plus 12-inch extension wand, brush and crevice attachments, and turbo tool means no corner will go unreached. The turbo tool attaches to the hose and becomes an air-powered brush for cleaning upholstery. A convenient foot pedal allows you to turn off the carpet brush for bare floors and hose attachments. The 12-amp motor means clean carpets. This vacuum comes with a HEPA media filter for a safer environment. Bagless means you won't be spending extra. The dirt cup is easy to remove and clean. The regular filter is hand washable. The HEPA filter can be removed and tapped clean.
This is a powerful, compact vacuum for carpet and wood floors. Living up to its name, this vacuum pulls dirt quickly out of the carpet with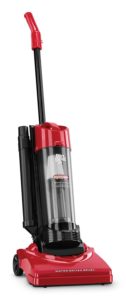 its revolving brush backed by 7-amp suction power. On carpets, you will appreciate this easy-to-tote cleaning machine. On wood floors, you will enjoy Dirt Devil's Scuff Guard protection. The 25-foot cord makes it easy to clean a large area quickly. Dirt Devil's unique Click Lock Handle can actually be lowered for compact storage. This vacuum cleaner is perfect for quick jobs or to tote anywhere. This vacuum doesn't compromise power for convenience. It will get the job done.
This vacuum cleaner might not be ideal for small, tight spaces. It has a large base, which offers great cleaning range and power.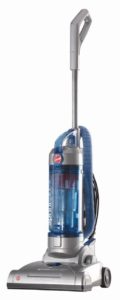 But it is a little harder to maneuver. However, if you don't mind a sturdier base, you will get a lot of cleaning power out of the multi-cyclonic cleaning system. Everywhere the cleaning head moves, you will see a carpet that is clean. Even though it does not maneuver like a smaller vacuum, it weighs just under 13 pounds and is small enough to store easily. The 23-foot power cord and 7 foot hose means no corner of the room is left untouched. For easy breathing, you will appreciate the standard and HEPA filters.
If you prefer a canister vacuum cleaner, here is an efficient bagless option. The canister design is very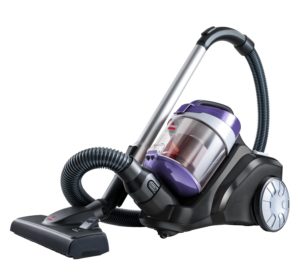 compact with swivel steering, and this vacuum cleaner is light weight at 8.5 lbs. The cord is only 15 feet, so the vacuum may need to be moved more frequently when cleaning. But it is easy to maneuver and easy to store. The sweeper is suction-based with no brush. However, the cyclonic technology pulls dirt up and away from the carpet and breaks down tough particles, leaving you with a clean carpet. At 9 amps, the motor provides powerful suction. This vacuum cleaner has two levels of filters, including one that is washable. This helps to eliminate allergens and keep a healthy environment. Filters need replacing twice a year.
For low pile carpets, bare floors, and area rugs, this little vacuum cleaner is an affordable treat. This is a light-weight
stick vacuum (8 lbs.) with a 2-amp motor, powered by Hoover's cyclonic technology. That means low power usage but high suction performance. This vacuum reclines to reach under furniture. With swivel steering, it's easy to get in and out of tight spaces. Now you can move the vacuum around, instead of moving your furniture.
Enjoy the wide mouth that picks up bigger pieces of debris on the first try. (No more going back and forth until you decide it's easier to pick things up by hand.) Soft wheels won't scuff your floors. As a stick vacuum cleaner, this unit doesn't have corner or upholstery attachments. But the bristles are designed to get edges clean. The standard filter can be washed and replaced. You can see when the dirt cup is full, and it's easy to remove and clean.
There you have it. Five great choices of cheap vacuum cleaners. Great suction power, easy use, compact storage, and adaptable to different surfaces. Which features appeal to you? Whichever one you choose, isn't it great to know clean floors don't have to cost a fortune?
— Janet Eriksson
Please follow and like us: