USING THE RIGHT CLEANING AGENT
Now that my house is clean and shining, I like to add a few finishing touches that set my house apart from the rest
When I clean my house, I try to clean from top to bottom using a variety of tried and true products each time. When you dust high shelves or wipe crumbs from the kitchen cabinet, the debris tends to fall downward and end up on the floor, hence my top-to-bottom mantra. With each task that I complete, I need to have a well-stocked cabinet of cleaning products. It's important to use the correct cleaner for each task. You wouldn't use a baseball bat to hit a golf ball, so you shouldn't use glass cleaner to disinfect your counter top. Using these helpful hints, you can create a stockpile of goodies to keep your house clean and clutter-free.
Keep in mind, some cleaners have off-brand or store brand alternatives that seem like a good idea. They might be. The trick is to check the active ingredient in each cleaner. Sometimes the reason a store brand is less expensive is because the product is diluted. If the active ingredient is listed at the same concentration, feel free to buy the less expensive item.
I begin by dusting. I use a dusting agent containing mineral oil and isoparaffin for my wooden coffee table and bookshelf. The active ingredients leave the wood looking shiny, not greasy, and actually repels further dust particles. This way, I can get away with dusting only once a week or once every two weeks if I'm strapped for time.
Next, I focus on the bathrooms. Because there are many surfaces and different cleaners for each surface, take care in only using one at a time. Do not use products with bleach in conjunction with products with ammonia. They will chemically react and produce a toxic gas. Read your labels carefully.
I clean any shelves first with my dusting agent. Then I focus on the mirrors or any glass. I use a window cleaner containing ammonium hydroxide and coffee filters to clean my mirrors. Old newspaper will work as well to give you a streak-free shine. Next, I start on the toilet bowl. I typically use chlorine bleach-based product. The bleach removes any stains that may have accumulated and reduces odor. I apply the cleaner around the inside of the bowl. While the toilet cleaner is working its magic, I clean the showers. For this task, I use an ammonium chloride-based product. I try to find one that sprays in a foam instead of a fine mist. The foam stays where it's sprayed and pulls stains from bathroom tile and grout. I use the same for the sink and countertop, careful not to mix with any residual glass cleaner. After this is wiped clean, the surfaces will gleam as toothpaste and soap scum are removed. Now, we can run the toilet brush around the inside of the bowl and wipe down the outside of the porcelain. Finally, I clean the tiles of the bathroom with a mop and a floor cleaner using alkyl polyglucoside. It makes the job simple and efficient.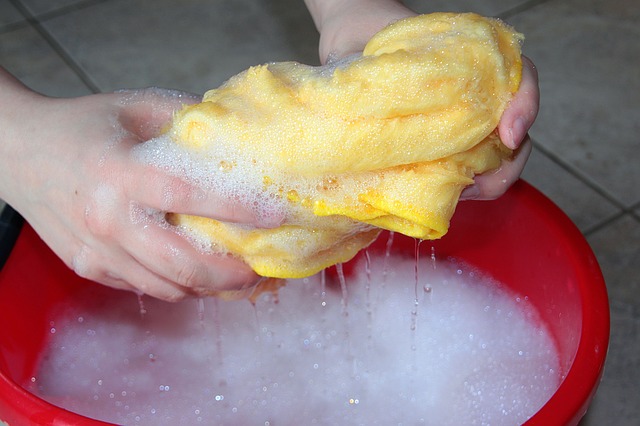 I feel differently about using chemicals in my kitchen than in the bathroom or elsewhere in my home. I will cave and use a corrosive oven cleaner when necessary, but that takes more time as well as gloves and a heavy-duty scrubber. Instead, I use preventative measures like a removable oven liner. For my countertops, I prefer to make my own cleaner for the place where I prepare food for my family. I mix ¼ cup of white vinegar, 1 ½ cups of distilled water, and 25 drops of lemon essential oil in a glass spray bottle. I recommend a glass bottle because any citrus essential oils can corrode plastic. Just shake and spray. This is an all-purpose cleaner that I use every day in my kitchen. I use it on the countertop, the stovetop, and even my cutting board (it's wooden and enormous). I feel better using something natural on the surfaces that touch my family's food.
Then I move to the kitchen floor. My kitchen, dining room, and living room are mostly connected due to the open floor plan of my house. In addition to the added surface area, all of this flooring is hardwood. First I do a quick sweep of the area with a broom, followed by vacuuming the corners for any pesky crumbs or sneaky dust bunnies. Getting in all the crevices ensures that I won't have stray hairs or food particles sticking to my mop. Next, I mop over the area with a cleaner specifically formulated to work on hardwood floors. Do not use a vinegar and water mixture on hardwood. It can actually corrode the wood and leaves the floor looking dingy. I recommend using products made with potassium soap manufactured from vegetable oil. Simply dilute the product and mop the floor. This product will leave a smudge-free gleaming surface without harsh chemicals.
Now that my house is clean and shining, I like to add a few finishing touches that set my house apart from the rest. I go through every room with a melamine polymer-based sponge. This is one of the staples of my cleaning arsenal; nothing compares to the stain-fighting power. It actually doesn't contain a cleaning agent. The atomic makeup of the sponge is like fine-grain sandpaper that removes pesky stains. For any random smudges of the walls from close calls with a hula-hoop, golf club, or moving furniture, I simply wet the sponge and rub the smudge. This makes my house look extra clean. Finally, I finish off each room with a spray of room deodorizer. Whether pets, children, or other home occupants reside in your home, they occasionally leave behind a distinct odor. I make my spray using orange essential oils and water. Some "life hacks" recommend diluting clothes detergent and spraying through your home, but that leaves a filmy residue on your furniture and can irritate the skin of the occupants. Detergent is meant to be washed totally away from fabrics, so this isn't a "hack" that I recommend. Simply spray your preferred product in each room to make it feel cozy, clean, and inviting to your guests and your family.
It's little touches that make a house a home, and little touches that take it that extra mile for ultimate cleanliness.
— Sydnie Olliff
Please follow and like us: